Singapore's Gardens By The Bay – The World's Largest Climate Controlled Greenhouse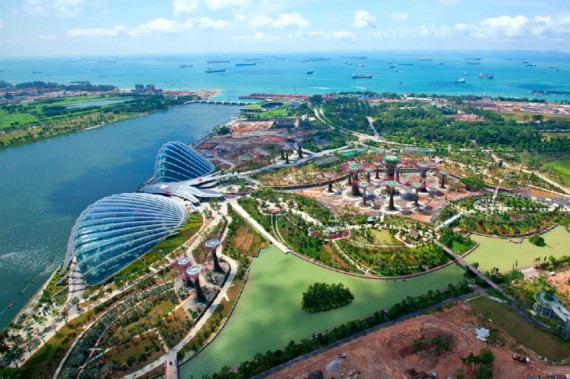 Singapore's Gardens by the Bay opened in the summer of 2012 and was quickly recognised for its innovative design. Awarded World Building of the Year at the World Architecture Festival 2012 and best display buildings for the Cloud Forest and Flower Dome, Gardens by the Bay are examples of eco friendly architectural initiative.

The Cloud Forest and Flower Dome are carbon neutral conservatories which use sustainable technologies to nurture exotic plants. Both explore different issues. The Flower Dome presents the difficult relationship between people and plants, whilst Cloud Forest looks at the impact of climate change on biodiversity. Both are cooled by systems that run on energy from biomass – waste plant materials from Singapore's parks. They also utilise solar panels which absorb 65% daylight, but only 35% heat. Solar trees diffuse hot air and generate hot water and electricity for the 16,500m2 complex, while rainwater is collected and used for irrigation.