Power of wind wipes out darkness with Firewinder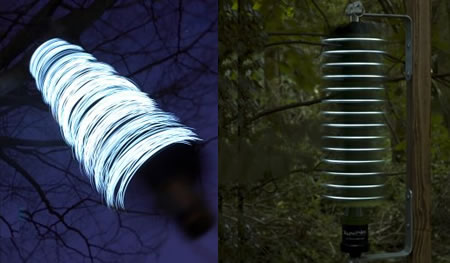 This Christmas, light up the pathway to your eco-den with the latest wind powered out-door light. Designed by Tom Lawton, Firewinder not only makes use of alternative wind energy to light up the dark times but also turns clockwise to stir up the good spirits according to the Buddhism teachings. This spiral structure harness the endless energy of wind to dole out upward spiraling light every time the slight breeze blows. Setting it up in your backyard or lining up your patio with Firewinders can render unobstructed light show after the sun sets. The mesmerizing twirl of light also helps to unwind stressful thoughts at the end of the day. However such a design has its limitation as it cannot shed light when the wind refuses to be generous.

With such an out-of-the-box source of green out-of-doors light, the designer is looking forward to get it accepted as the international symbol of sustainability throughout the world. Prized at 100 GBP ($160), the Firewinder is expected to hit the shelves in the first weeks of December in limited numbers only.