NTT integrates photovoltaic cells and a solar water heater into one module to boost efficiency

Solar powered water heaters are known to have owners cribbing about efficiency at times. So, the Nippon Telegraph and Telephone Corp (NTT) came up with a clever way to increase heating efficiency by simply integrating photovoltaic (PV) cells and a solar-based water heater into one module. This helps increase the conversion efficiency of the PV cells. Using four pieces of Sanyo Semiconductor Co Ltd's amorphous silicon (Si) PV cells in a sloping stair-like case, the module works as a solar panel when out of water and generates electricity from the sun's rays. On filling this one up with water, the reflection of the water-surface helps increase efficiency of the solar cells too!

Innovative indeed, integrating photovoltaic cells and a solar water heater sure seems to be an efficient way to generating some renewable energy.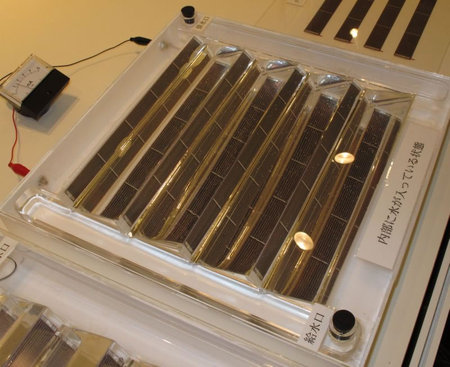 [Techon]