Landscape superyacht powered by the wind and the sun

We've seen some pretty green yachts before like the Poseidon and the Green Voyager. Well here's yet another one to sail along, the Landscape superyacht, powered by the wind and the sun. Using Vertical Axis Wind Turbines (VAWTs) located in the masts and several solar panels fitted around the yacht, the Landscape generates some green energy to power up. Besides being a whole lot green, the designer of the Landscape has designed this one in a way revolutionizing the luxury boating industry. The 75 meter boat submerges into the water at your command to turn into a mobile island, sort of a beach, complete with an outdoor shower, a staircase to let you get closer to the water, a canopy to keep the weather's effects away and a pool too.

So slap on your sunscreen and set sail on an eco-friendly cruise with the Landscape!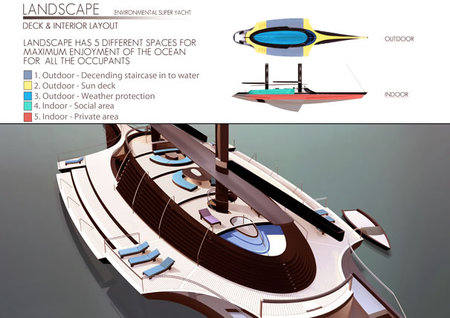 [Yankodesign]