High-tech '1 minute washing machine' concept – The fastest and the greenest

With the current fast-paced lifestyle that most of us lead, it isn't unusual to ask for 1-2 minutes products and services. Be it surfing, vehicles or gadgets, we are ready to pay the prize for speedy net connections, traveling by fast-speed bullet trains or super cars or a washing machine that promises to wash our laundry in just a minute. The last one though is still a concept but an ingenious one to find a place on Greenlaunches. Jung Hyun Cho and Bo Ram,Hong from Korea have dubbed their project as '1 minute washing machine' for the homes of 2020. Inspired by the digestive system of the human body, the duo has designed this in-a-jiffy washing on the same lines. The form also signifies the alphabet E that deliberately stands for Electrolux. Eliminating the need of soap and significantly reducing the amount of water used, this washing machine aims to churn out clean laundry with the help of other ground-breaking features.

The designers claim that it will run with water changed by electronic decomposition, break down protein, wash clothes with great water pressure, eliminate water with vacuum cleaner, and lastly disinfect with ultraviolet sterilizer. It is hard to believe that all this can be completed in a minute. A flash of light will signify the movement of the clothes through the intestines of this machine.
Most of us would love to swap our present hour-long-cycle washing machines with this ultra-speedy version that also promises to be green in function.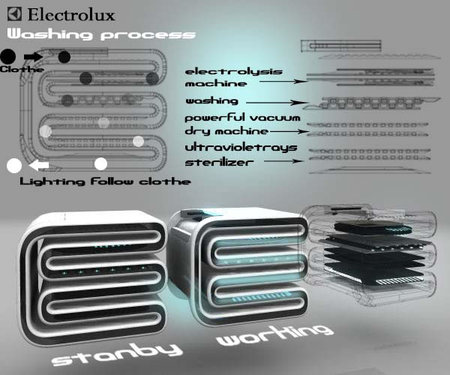 Source