Cell phone batteries that charge by swinging them around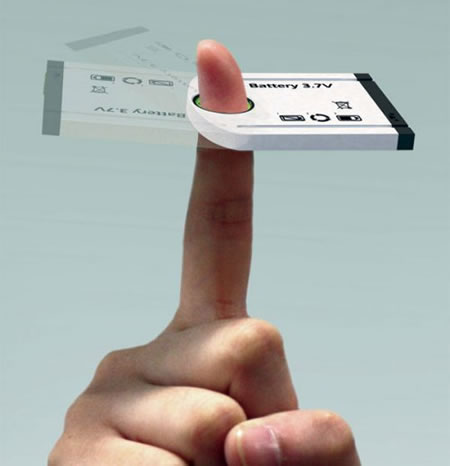 You may have found your self in the unavoidable situation of having your cell phone battery go dead and leave you with no access to any communication. The frustrating fact that our cell phones have a battery life too can be overlooked using this battery. This may not be an environment friendly option for charging up you cell phone, however
this novel idea designed by Song Teaho & Hyejin Lee sure is practical and unique. All you need to do is, open up the back panel of your phone, bring out this unique battery and swing it round by inserting your finger in that little hole. Okay, this isn't an April Fools trick. The battery juices up when you swing it around your finger and will bring your dead cell phone back to life. This helps keep your phone switched on to last a short conversation and a trip to a charging port. Turn the battery around your finger a little more than a hundred times and it's enough to keep your phone running through 25 minutes on standby mode and 2 minutes on a call. So save yourself the energy burnt up on the frustration that occurs when your phone goes off and go buy yourself one of these smart and practical batteries!

Via – [Designlaunches]