Acqua Liana – A $29 million mansion stands out for eco-friendly opulence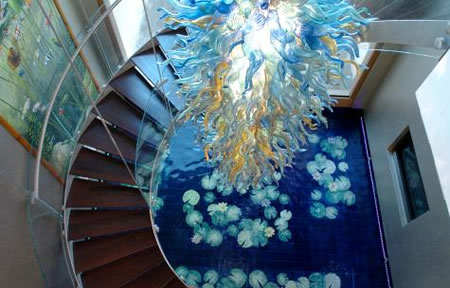 Myth – Luxury and eco-friendly tend to move in opposite directions. Fact – Acqua Liana, a $29 million eco-friendly mansion dares to break the myth as luxury and eco-friendly blend together in harmony under this green mansion's roof. Though the name Acqua Liana is a Tahitian and Fijian word for "Water Flower," to sum it up in one word, Frank McKinney's newest home in an eco-heaven. Spread across1.6 acres and rising 23 feet above sea level, this estate is the first home of its size to be certified green by the rigorous environmental standards of the U.S. Green Building Council and the Florida Green Building Council. The list of luxurious features of this three-story, 15,000-square-foot palace includes 7 bedrooms, 11 baths, a fire feature centered waterfall spa, roundabout water gardens, floating sun terraces, an interior glass "water floor," a suspended double-helix main glass staircase, an arched aquarium wet bar with exotic fishes swimming over. Don't miss out the guesthouse constructed out of palm and bamboo that is partially submerged in a lagoon. Phew! But it's the solid green gestures that bowled me over. A basketball court-sized solar paneled roof can generate enough energy for two average-size homes and thus cut electric bills significantly.
Roll over for more eco-friendly features…..

The whole mansion is illuminated with eco-friendly light fixtures that help to reduce energy consumption by 70%. A water system collects enough runoff water to fill the average swimming pool every 14 days. The polished wood floors are constructed of reclaimed wood. The temperature is kept cool naturally with pools, reflecting ponds, water gardens, and misters. The air conditioning and air purification systems are more energy efficient. Also about 340,000 pounds of debris was recycled during construction. Unveiled on Friday the 13th of this month, Acqua Liana broke all misconceptions about green living.


[EcoHomeMagazine]