A schoolyard that generates power, collects rainwater and sorts waste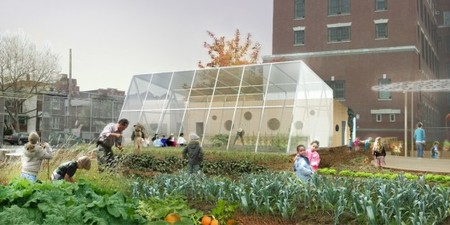 Here is one schoolyard that teaches with a difference. Edible schoolyard along with Work AC and the Alice Waters' Chez Panisse Foundation has designed a new schoolyard that has a series of interlinked sustainable systems where the building will produce heat and energy. Not only that, it will also collect rainwater, process compost and even sort waste, all with an off-grid infrastructure.

This is how the school gets in the children to understand the concept of eco-friendliness. They bring in the children to the kitchen classroom where the kids have their meals. Now this is where the green aspect of the classroom comes into picture where the kids who prepare meals are shown how the classroom collects rainwater for reclamation.


The mobile greenhouse extends the growing season by covering 1600sf of soil in the colder months and gardens will allow the children to care for plants.


A systems wall, a series of spaces that include a cistern, space for composting and waste-sorting, solar batteries, dishwashing facilities, a tool shed and a chicken coop, rests on the opposite side of the yard


This is definitely a very all encompassing and well integrated method of involving children to understand and develop environment sensitivity.