Three-wheeled fuel-efficient car survives on coke can full of fuel

I would hardly choose to call this three-wheeled contraption a car. But what the heck! It's more fuel efficient than any of those gas guzzling four-wheelers around. This vehicle built by some really brainy students from the Coventry University takes fuel efficiency to a much higher level. It can travel a distance from London to Brighton, that's around 54 miles, with a coke can full of fuel.

No, this isn't a belated April Fools joke. The vehicle will compete for the world's most fuel efficient car along with 200 other competitors from 24 different countries. Now the cockpit isn't much, and the vehicle is slow (25mph is all it can go). A tight squeeze in and you're exposed to a choke-pull style lever for the throttle, a brake pedal, horn (not that it's needed, with a top speed like that, you could simply yell out) and kill-switch. Hopefully, our saloons and SUVs drink that less in future.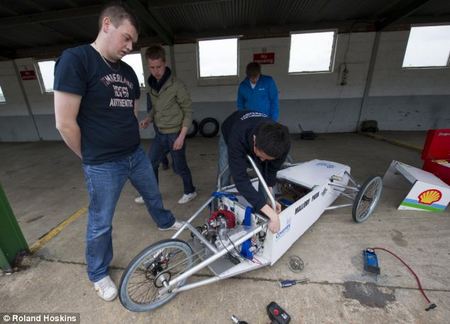 [Dailymail]