The NutMobile is a solar and wind-powered truck that goes nuts about being eco-friendly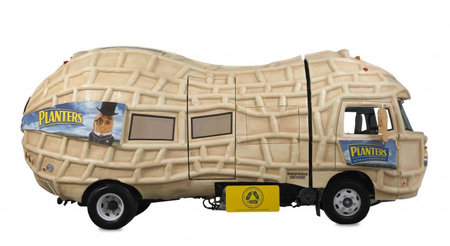 Seems like everyone's gone nuts about the eco-friendly concept lately, nuts enough to roll out a vehicle, shaped like a nut, that's eco-friendly! The NutMobile by Planters is a peanut shaped truck and is part of the company's new Naturally Remarkable marketing campaign. What lies beneath the nut is a medium-duty Isuzu NPR cabover powered by a 5.2-liter turbo-diesel I-4 capable of running on peanut oil-enriched biodiesel. That's not all. Pushing up the green, this one uses a body made from a non-toxic epoxy, while the exterior graphics are crafted from vinyl with no volatile organic compounds. Using parts like glass, doorframes, and headlamps from old vehicles, this one also boasts solar panels and a pop-up wind turbine that power up the audio systems and the LED lighting.

The greenest nut on wheels, and probably the first of its kind too, the NutMobile works as a travelling inspiration for renewable energy.


[Motortrend]