The New Nissan Leaf – all electrical and coming soon in 2010

Nissan released the photos and details of its electric car, Leaf, which Nissan intends to put into production by 2010. The Nissan Leaf is a pure battery electric vehicle. It has its own distinct look with 4 doors and a hatchback. The pricing of the Leaf hasn't been disclosed by Nissan but it will be affordable and will be a C segment car. It will be cheaper operating the electric Leaf when compared to a gasoline car. Many governments give incentives and rebates in the form of tax credits to purchase an electric car.

The new Nissan Leaf uses a laminate lithium-ion battery pack with an output of over 90 kilowatts. The car's drive motor gives out 80 kilowatts of power which is equivalent to a car than runs on petrol. Nissan claims the Leaf has a mileage of 100 miles. The Leaf has regenerative braking and can recharge the batteries in 30 minutes to 80 per cent capacity with a quick charger. From a 200 volt socket it will take around 8 hours for a complete charge. Another innovative feature of the car is the onboard computer. Apart from the normal computing functions of an onboard computer, the computer is connected to a data center that receives diagnostic information from the car. It will also inform the driver of the local recharges stations. The Nissan Leaf will be originally built and sold in Japan, the United States and Europe.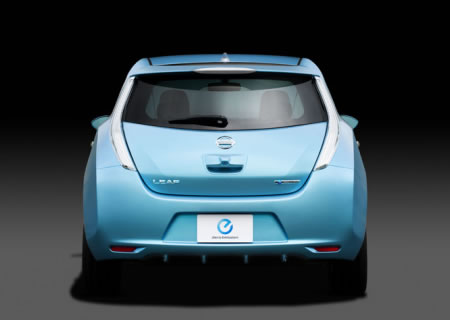 [Cnet]