The Do-It-Yourself Electric Motorcycle for $12,000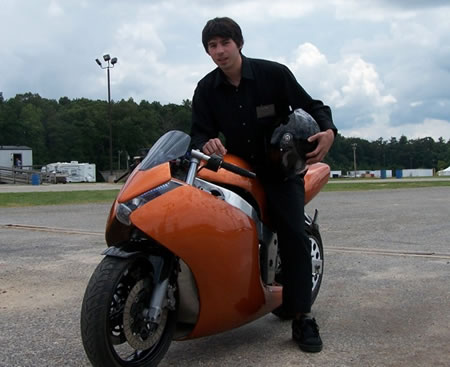 What can you do in two months time? How much of it can you do? Bet you are wondering on the first question still! Well this 22 year old college kid built a ride-able electric motorcycle in just two months. How many of you can do that? Plus it looks sexy and sleek. I mean, you would give a second look at this even if it is standing next to the Suzuki Hayabusa. Tom Miceli built the Ion during his final year at Appalachian State University. He studied industrial design, and his senior project required him to create something that reflected all he had learned. Now that is clever way to find out whether you were sleeping in class. As a kid, he had the passion to draw fast cars and now you would already guess what he would be making. He made an electric bike which is friendly on nature but there is no sacrifice on performance. He stripped a 96 model Kawasaki Ninja to the frame and made the Ion capable of more than 70 miles an hour and a range of 60 miles.


Only a semester left now, he burnt the midnight oil and got into the designing. He went for a modern, almost futuristic look but the pricing was kept average. Two months to his deadline, he stripped the Ninja to a rolling chassis and replaced the 600cc engine with a box carrying two dozen 40Ah lithium iron phosphate batteries. It gives a total output of 3Kw hours. This powers a 6.75-inch AC motor rated at 43 horsepower and 95 foot-pounds of torque. The pack recharges in six hours from a standard 110-volt outlet. The Ion cost Tom $12,000 to make. The amount is pretty big for a college student but he went through it with the help of a grant from his community college. Well he did finally get an A for this project and I really hope his talent is not wasted and he gets a job what he wants. Or Tom, why don't you start this as your own enterprise. With the price of oil sky-rocketing, I think your business idea would be excellent. You already have one customer! ME!



[Wired]