Pelican Bay, Florida, gets solar powered tram-like transporters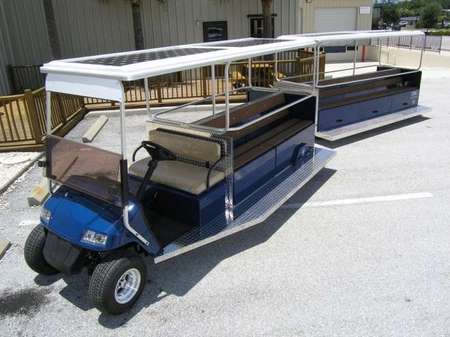 Community transport in Florida has turned over to the green side. To travel around Pelican Bay, Florida, you could soon step onto some solar powered transporters that will get you around in a clean way, without puffing up a carbon footprint. A company based in Sarasota, Trans Alliance, will chisel out these solar powered transporters. Owned by the Pelican Bay Foundation, these transporters were officially converted to the vehicles by Trans Alliance. The Pelican Bay Foundation also owns 43 parks, recreation areas, beach front facilities, boardwalks and loads more. Basically a system similar to trams, these resident transporters will use a 460-watt solar charging systems on board producing 400 kWh of electricity. This will help cut out on 22,000 pounds a year!

With a great way to get around the neighborhood, the residents of Pelican Bay are sure to leave their cars in their garages and hop on to these solar powered transporters instead!


[Cleantechnica]