Mercedes-Benz's new tractor trailer is powered by natural gas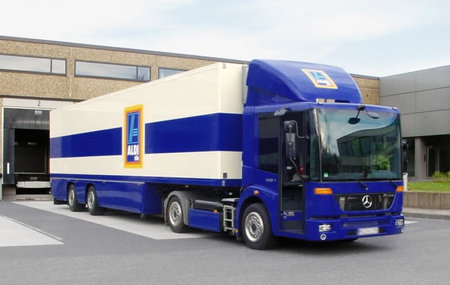 Semi's or tractor trailers, those long centipede like trucks we see rumbling down interstate highways and burning up precious fuel may be a sight of the past with Mercedes-Benz's first production version of its tractor trailer powered by natural gas. Natural gas is gaining popularity over the use of petrol and diesel, especially for commercial vehicles like these which are usually parked and deployed from one depot. These trucks can be juiced up at those depots when
needed. The Mercedes-Benz Econic NGT (Natural Gas Technology) has almost no particulate emissions and is ideal for urban areas. It also boasts of lower CO2 and NOx emissions. The truck can be optionally powered using biogas, making its operation carbon neutral. The Econic NGT uses a six speed transmission and meets the rigid EEV emission
standard.

Mercedes-Benz delivered the first truck of this kind to the company ALDI SÜD for food distribution to grocery stores, who opted for an environment friendly mode of transport. Hopefully, other automobile companies are inspired and start designing and producing trucks that kiss the environment instead of harming it.
[Autobloggreen]