Mercedes-Benz BlitzenBenz: A concept car powered by hybrid hydrogen engine

Concept cars never cease to fascinate me. And if the concept car bears the brand name Mercedes Benz it can only get better. Proving my point is the exhilarating concept Mercedes-Benz BlitzenBenz which has been designed by George Yoo, a designer at Mercedes-Benz Research and Development in Carlsbad, California. The designer created this concept car during his final year at the Art Center College of Design in Pasadena. The concept car has been designed as a futuristic racing vehicle to be used for testing and evaluating cutting edge technology. The hi-tech design of this car has been inspired by two sources: the original Blitzen-Benz from 1909 and Alex Erlandson whose work of creating "sculptures" from trees which were grown into certain shapes gave Yoo the idea of, "what if automotive parts were to be grown and tamed to hold certain shapes".

The exterior of this concept car has been designed to function as a base for the organic structure to sprout out from and form itself around. The individual wheel pods are held in place by this organic part. These can sense whenever the electric motors inside need to be cooled and the structure would then open up. The cool-blue color of the lighting system has been inspired by the bioluminescent capabilities of deep sea creatures.
Powered by an advanced next-generation Hygenius hybrid hydrogen engine and four in-wheel electric motors, this concept vehicle promises to woo the speedsters of tomorrow. But that is not all, enhancing its visual beauty even further is the hydrogen storage tank located below the cockpit that shows the fuel level in a small window giving a visual sense of water being recycled throughout the vehicle.
A beauty, this is one car we would love to see materialize soon.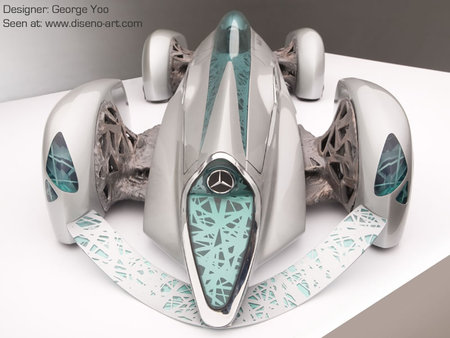 [Diseno-art]