Mercedes Benz unveils BlueEFFICIENCY Edition A 180 and A180 CDI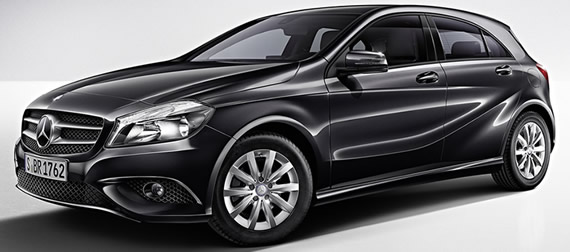 Mercedes Benz is going the fuel-efficient way and ha just unveiled to extremely green BlueEFFICIENCY Edition models, the A180 and the A180 CDI BlueEFFICIENCY Edition. The A180 petrol model boasts a consumption of 5.2 l/100 km and 120 g of CO2/km and is easily one of the most efficient in its class. The A180 CDI on the other hand has a consumption of 3.6 l/100 km and CO2 emissions of just 92 g/km, making it the most efficient Mercedes-Benz car!

Apart from the efficiency, these cars have also been aerodynamically enhanced and include a partial covering of the upper section of the radiator grille, aerodynamically shaped spring link coverings and a lower suspension. Complete with distinct round LED daytime running lamps and optional bi-xenon headlamps, the new efficient BlueEFFICIENCY Edition models are here to stay!