Infiniti M35h is the world's fastest accelerating hybrid car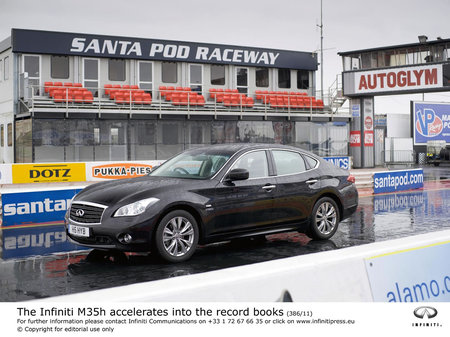 We've had a look at a bunch of hybrid vehicles here before. Most of these stick to being fuel-efficient urban cars, without paying too much heed to sprinting away in the horizon. This time though, we stumbled across a Guinness World Record holder, from the stables of Infiniti, the M35h hybrid saloon. The world's fastest accelerating full-hybrid, this car uses a petrol-electric drive and covered a distance of 400m in an average time of 13.9031 seconds! Packing a high-revving petrol V6 engine and a 68PS (50kW) electric motor, this one emits just 162g/km of CO2 and touches the 62mph mark in just 5.5 seconds!

And for a hybrid saloon, these stats are more than impressive! A car worth having in your garage, the M35h kicks gas-guzzling saloons in the groin.