Epic Wakeboats 23E – The world's first hybrid sports boat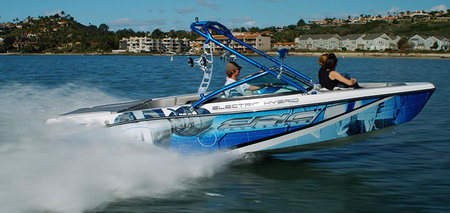 Chris Anthony, who co-founded the Aptera Motors EV producing the Aptera 2e electric car, has come up with what he calls the world's first hybrid sports boat. Fitted with the latest Flux Propulsion EVO 8.1 Marine Drive, the Epic Wakeboats 23E will apparently burn 50 per cent less fuel and emit half as much carbon dioxide than a typical Wakeboard boat on a four-hour cruise on the water. The boat, a 22-footer 'is a series hybrid that uses a small gasoline engine to drive a generator that keeps the lithium-ion batteries going as they approach depletion'. This means that you can still have fun zooming and splashing water on the lake or ocean while also being environmentally alert.


Chris says the cruiser, which can room 14 people, produces of 375 horsepower, enough to propel the 23E to 36 mph while burning far less fuel than comparable vessels. The batteries can be recharged from a common 110 or 220 volt wall socket. The designer is hoping that the buyers will install some solar panels on their boathouse roofs to give it a greener touch. The cost of the cruiser is $150,000 and will be launched in July. They also hope to produce a model of $70,000 by 2012 followed by a diesel-electric model down the line.


[Wired]