Edison Classic Carrier electric boat goes retro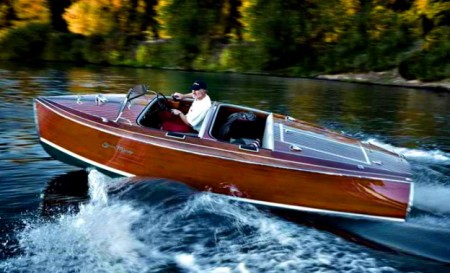 It looks antique and classy but it is brand new and very thoughtful. Oregon-based Edison Marine has introduced the Classic Carrier, a range of hand built 40's style electric power boat with the exteriors accentuated with South African Mahogany wood. This river queen will take your breath away, I bet, especially with the welcome feature of a quiet engine and no emissions! The boat can go up to a speed of 30 miles per hour with two 85hp electric motors. The batteries of this beauty can be charged using a AC/DC 110/220 V outlet in up to 4 hours which can give you between 8 and 10 hours of plain cruising.

The 17-ft Edison Classic Carrier is priced at $100,000 for a single propeller engine and $120,000 for a twin engine. To make things more classy and sophisticated, you have the option to choose leather innings (of course keeping in mind the water that's going to splash on them) and also an on-board gas generator for charging the battery. It will also make a great gift idea for your retired father. Provided he knows to swim, manage speed and wouldn't be too water-lagged.


[Luxist]