Uber green X-mas tree shaped out of recycled cardboard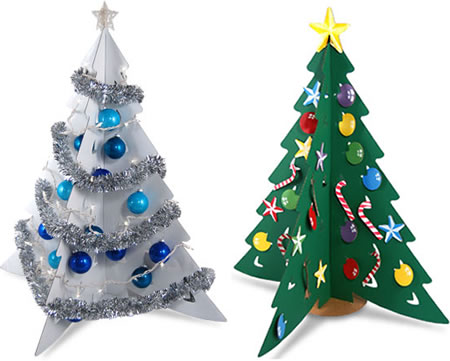 This Christmas allow Santa to place your gifts at the feet of the 100% eco-friendly X-mas tree. Switch to the latest trend of going green by swapping authentic Xmas trees with the cardboard versions. Designed and developed by Cloud Gate Design LLC, from Chicago, this tree is erected out of recycled corrugated cardboard. You can also opt for ornaments made out of cardboard to decorate it in a true green style. ideal for kids as well as adults, such a eco-friendly version aims to instill the green values even in times of festivities. Claimed to be 100% recyclable, this tree screams out two ideas very clearly – Reuse and Recycle. for $23, it stands 3 feet tall and 3 feet wide. Even the packaging material is absolutely eco-friendly.

Part of the profits from the sale is also donated to tree foundation. The Arbor Day Foundation's Tree for America program plants one tree in a damaged forest for every one dollar donated.