The Pull-tab lamp, made of recycled pull-tabs from opened cans

Now here's something that's bound to grab a lot of attention, if you hang it up in your home. The Pull-tab lamp. Just incase you haven't figured out yet what a Pull-tab is, these are the little tabs we have on the top of our soda and beer cans. Pulling them away, exposes us to the cool insides of our drink can. This lamp is made using these little tabs, a great way to recycle them, turning them into a full-fledged piece of art that attracts all the "oohs" and "aahs".

Pull-tabs have a short life-span, so long as their host-cans remain on shelves. Once sold, and opened, people usually flick these tabs away, concentrating more on the drink. So Mauricio Affonso collected quite a few of these and came up with an idea of turning them into a great showpiece and a piece of art. It's no wonder Affonso was a finalist of the Inhabitat spring greening contest!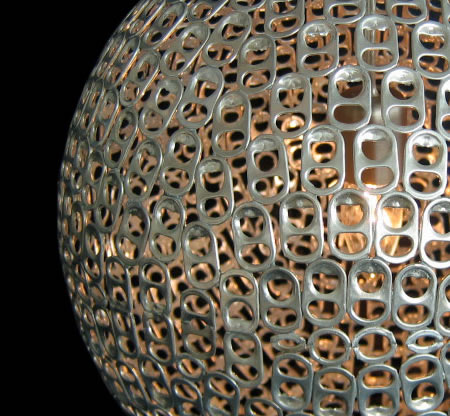 [Recyclart]