Recycled Island, a floating artificial island made from plastic waste in the Pacific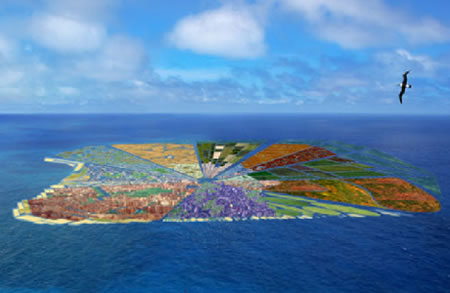 You might have come across Electrolux's recent venture to help clear out plastic islands and debris in the oceans, recycling them into vacuum cleaners. Well, an architecture firm is dreaming up a "Recycled Island" in the Pacific Ocean, with remarkable sustainability and eco-friendly environment hugging features. This could help clean up the oceans and play home to climate refugees too. WHIM architecture, the firm who designed this concept, think that islands like these could help better the environment, putting to use all that toxic waste which has been throttling marine life to a miserable death all along.

This floating habitat will boast beaches, farms, and buildings with 4,000 square miles of plastic 'land' upon which plastic communities would be built. To build this island, plastic from the North Pacific Gyre will be used, to form floating platforms of recycled plastic. What more could we ask for than cleaner oceans and a little more living space!


[Treehugger]