Old tires recycled to create wallets shaped like, well, underwear!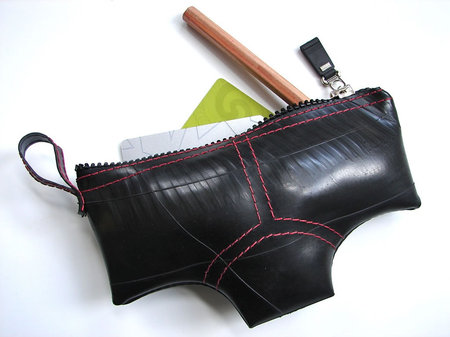 We've known tires to end up in dumping yards. We've seen a few being recycled into some pretty interesting stuff. Never before have we seen tires being recycled into leather underwear-shaped wallets though. Well, they sure serve the purpose of a wallet well, keeping your essentials safe and in place. What caught our eye and left us scratching our chins trying to figure out its purpose though, was this wallets shape! Made from recycled tires picked out of garbage dumps, the Rubber Undies as it was unimaginatively named, is sure to leave just about everyone standing by staring as you pull it out to pay the hotdog guy!

Maybe designers around could probably learn a bit or two from the Rubber Undies and come up with recycled-rubber made wallets, that look like wallets and not a memento from a leather-clad stripper! u can buy this Rubber Undies Wallet for $22 at Etsy.