E-Waste put to better use as a fashion accessory!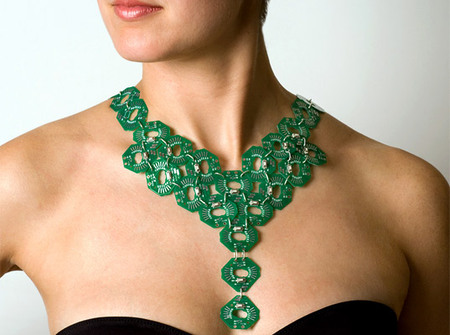 With so many talks happening over e-waste and how it is a major problem that needs urgent looking into, it was high time someone came up with an interesting solution such as this. Junk-metal artist Gabriel Dinshaw, is the man in question and his creativity really has no bounds I guess. Even if the old and spoilt motherboard is nothing but a piece of useless metal trash, he looked deeper and observed the gold, silver and copper materials in these circuit boards to creating stuff from the dangling earrings to the short skivvies. These up scaled designs were mainly created to impart awareness about technological wastes such as e-waste, mining industry and over consumption.
This amazingly stunning looking necklace is actually been made out of the circuit boards, and of course a little bit of magnet and sterling silver to complete the whole design.

Far less provocative are Oye's delicate drop earrings, cut from circuit-board scraps from her larger installations, then embellished with synthetic alpinite set in silver.


Before you think why is everything recycled only for the women, here is something for the guys as well. Electronic hardware takes a surprisingly pretty turn with David Casella's floral-esque brooch of recycled circuit boards, anodized aluminum, and brass.
[ecouterre]