Eco-Gifts: Five distinctive clocks recycled out of bills and vintage stuff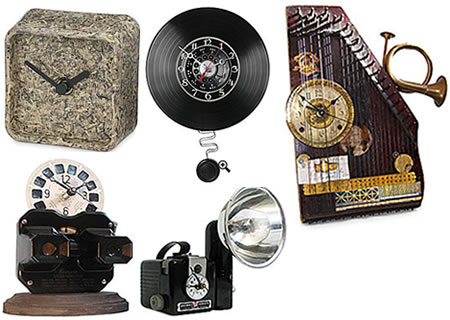 The fame adage, 'One man's junk is other man's treasure' stands the test of time as we bring to you five outstanding clocks recycled out of old discarded stuff. Time is the only factor that cannot be recycled and these recycled clocks distinctively demonstrate this hard-hitting fact of life. Uncommon Goods has a vast collection of functional products tailored out of trash and we picked out the five remarkable time telling devices that promise to tick away with green style. And since we cannot buy time, we can at least pay money for these recycled clocks that tell a story along with time.
5) RECYCLED YEN CLOCK ($40) – "Time is money" hold true for this clock as it is actually made of recycled yen. Made up of approximately 50 bills, a combination of 1,000, 2,000, 5,000 and 10,000 yen bills, each clock will showcase a different range of colors, as the Japanese bills come in green, yellow, and blue.

4) PENDULUM RECORD PHONE CLOCK ($195) – Minnesota artist Debra Dresler has designed this creative and nostalgic clock. Handmade with a vintage record and old-fashioned telephone, it is perfect for music lovers, gifted gabbers and antique lovers.
3) VINTAGE VIEWFINDER CLOCK ($145) – Handmade from a vintage viewfinder and complete with the famous viewfinder reel, this piece of art is also handmade by Minnesota artist Debra Dresler. Ideal for anyone who is young at heart, the viewfinder clock will add personality and historic charm to any home.
2) VINTAGE FLASH CAMERA CLOCK ($165) – Once again Debra makes you feel like smiling whenever you check the time with this wonderfully whimsical clock made from a vintage flash camera. It is a must have for photography junkies or for those who love to face the camera's flash all the time.
1) ZITHER CLOCK ($1150) – With an aim to give life to old spirits, Debra Dresler offers this clock that is handmade out of an antique zither, clock dials and other found objects. Like a collage of times gone by, this functional piece of art is perfect for antique lovers.
Isn't it time to make a change?