Shipping container cum solar powered restaurant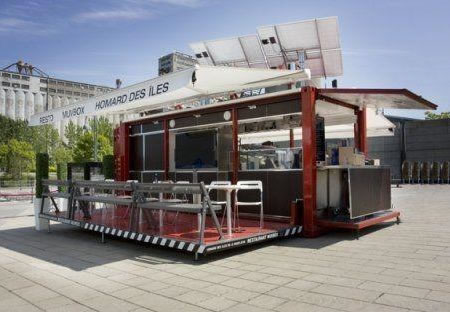 This is a restaurant that is unique. It is called the Muvbox portable restaurant which is a shipping container normally and when you are hungry, you can transform it into a solar powered restaurant. And they understand hunger as it only takes 90 second for this turn into a fully operational kitchen at the touch of a button and it takes 15 minutes for complete installation. The Muvbox concept also has an environmentally friendly floor constructed from recycled tires and the roof contains two solar panels which enable the unit to be up to 40% self sufficient in terms of energy use.

It will have a room for four staff and a wood fired pizza oven. Up to 18 people can sit in this restaurant. Covered eating space is provided for up to 28 people (with bistro seating for 14) when the walls of the container are folded back and tables assembled. This 'gourmet fast food' concept enables the individual owning it, a business man perhaps or investor or entrepreneur to move around with demand for business and the basic design means it can be easily adapted to suit other ideas. It costs $150,000.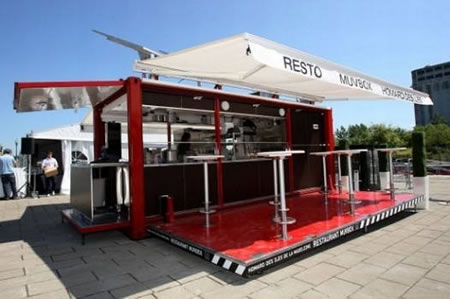 [Gizmag]