Recyclable cardboard Adidas shoes modeled on the upcoming 2014 collection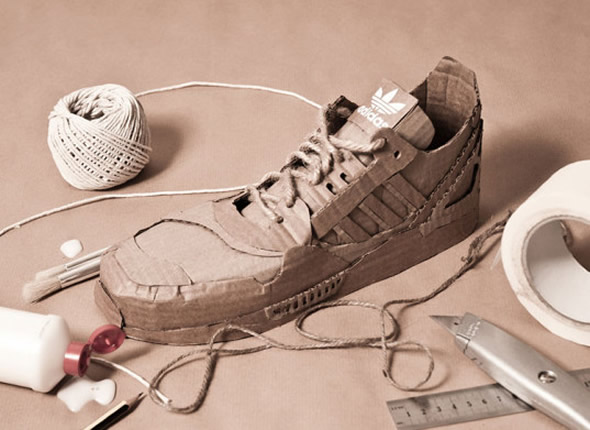 Besides plastic bags, syringes and old tires, some of the most common throw-aways found in garbage dumps are old shoes. Given the fact that these do contain quite a lot of rubber, shoes aren't completely recyclable, leading to environmental harm. So, sportswear giant Adidas teamed up with British artist Chris Anderson to create a recyclable pair of shoes that you probably wouldn't want to step inside a puddle with. Made from cardboard, these shoes are based on the upcoming Spring/Summer 2014 collection.

The cardboard collection includes Adidas models like the "Campus," "Superstar Shelltoe," "ZX700," and "ZX8000″ sneakers. Complete with Adidas' trademark parallel bars, perforations, and laces too, these cardboard shoes are quite eye-catching, though we don't expect the brand to sell these off store-shelves, simply because of the fact that they aren't tear-proof, water-proof, impact-proof, shock-proof or friction-proof.
[VIa – Inhabitat]