EDV-01 Disaster Response Unit is an energy-efficient, self-sufficient emergency pad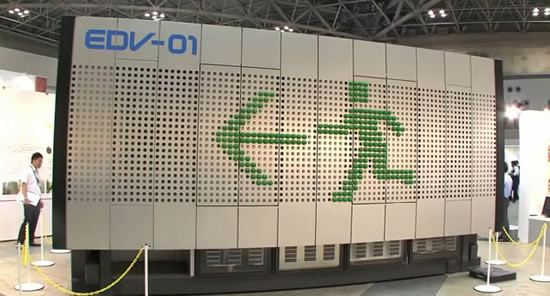 Only a land battered with emergencies on a frequent basis would administer the will and resources to create a functional combat. The EDV-01 is a disaster response unit developed by Daiwa Lease and it is kitted out with the basic infrastructure that could allow two people to live comfortably for a whole month, with supplies to water, electricity and communication equipment. It is a two-storied structure, with kitchen, bath and toilet on the first floor and living space on the second. The system uses solar power system on the roof and fuel cells underneath to store energy during night. In the event of communication network failure, the satellite linkup is established to keep contact with the outside world.

The pad also has a 800L water tank that supplies water in the kitchen and shower, while drinking water is stored separately on the second floor. The developers are trying to shrink the size from a current 20 feet to 12 feet. When emergency strikes, the international standard size shipping container can be delivered via air, sea or land. It's a pretty cool crib to own and a couple could use it to satisfy some fetishes before the catastrophe brings them down.