Eco-Art: World's Largest Cork Mosaic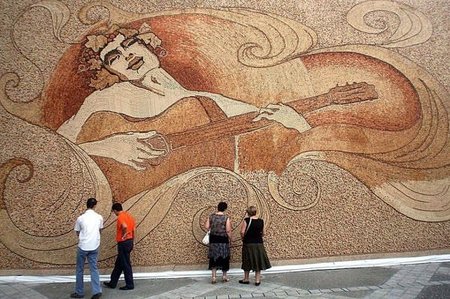 After popping up bottles, most of us simply drown in the intoxicating world of champagnes and wines without giving a second though to the cork that keeps the flavor intact. But artist Saimir Strati has gathered about 229,764 corks to give shape to an exceptional form of eco-art. His work has been recorded as the World's Largest Cork Mosaic. Slogging over 14 hours a day and 27 days at stretch, Saimir has recycled the corks of different sizes and colors by gluing them onto a large banner in the gardens of Sheraton Tirana Hotel and Towers.Watch out for the video after the jump…….


Working on a magnificent Mediterranean scene called Romeo with a crown of grapes playing the guitar while dancing with the sea and the sun, Saimir's work of cork-art stretches up to two stories and almost 13 m in length (over 40 feet).


Source