Cermak road in Chicago earns the title of the greenest street in America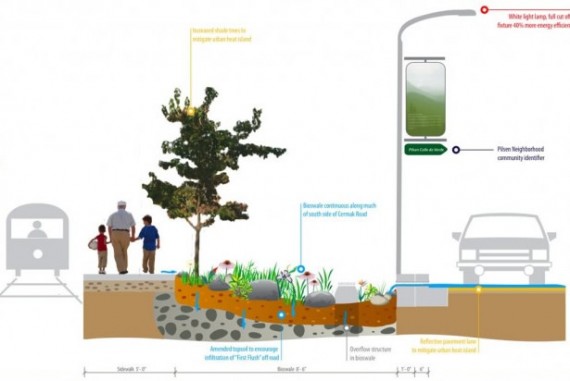 A street in Chicago has paved the way for future environment friendly streets. Earning the title of the "greenest street in America" is Cermak road in Chicago. The title was conferred upon this street by Chicago Department of Transport (CDOT). A fine example of a green street, it comprises of natural landscaping, bicycle lanes, wind powered lighting, storm water diversion for irrigation, drought-resistant native plants and innovative "smog-eating" concrete. Opened to public in 2012, this first phase two mile stretch is part of the Blue Island/Cermak Sustainable Streetscape project in Pilsen, which was launched with an aim of reducing overall energy usage by 42 percent.

The $14 million project is expected to extend along Cermak and Blue Island all the way to Western in Chicago. What is more, the current 14 blocks cost 21 percent less to build than similar projects in Chicago City. The project has set itself sustainability goals in eight performance areas such as storm water management, material reuse, energy reduction, and place making.

The "smog eating" cement is expected to draw a lot of attention from green lovers. It is said to contain nano particles of titanium dioxide and is designed to clean the surface of the road and remove nitrogen oxide (NOx) from the surrounding air via a catalytic reaction driven by UV light. Solar reflective or high albedo pavements accompany the smog eating cement.

The water management project involves diversion of up to 80 percent of annual rainfall from the combined sewer through a combination of the bioswales, rain gardens, permeable pavements, and storm water features.
The new project will offer improved pedestrian access, refuge islands for crossing the busy highway, increased permeable paved bike lanes and new sidewalks with permanent wind/solar powered pedestrian lights and the first LED pedestrian light poles in Chicago.
Now this is indeed a fine example of green infrastructure.
[Gizmag]