Carousel with a green roof and powered by solar power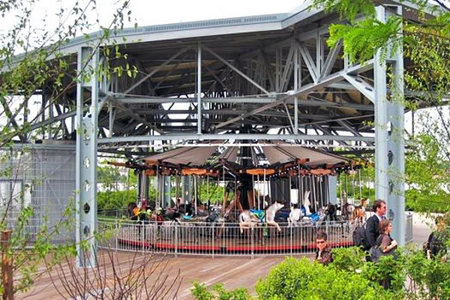 Remember those plastic horses you'd ride on at the local fair that circled round and round, never ceasing to tire, that good old Carousel ride? Well, it just got greener. The Hudson River Park's Chelsea Cove on Pier 62 now has a green Carousel with a green roof canopy designed by CRStudios Architects. The canopy sure does its job of protecting guest from nature's harshness well enough. It does a lot more too. The ride, now part of New York City's longest continuous river park, enables kids go closer to nature with a near experience with the indigenous species of the Hudson Valley. This includes a peregrine falcon, harbor seal, wild turkey, black bear, green-scaled Atlantic sturgeon, and a creature we've thought to be imaginary all along, a unicorn! When the sun shines and smiles down on this amusement park, the solar panel system soaks in its energy to power up the Carousel.

Suspended by a complex series of trusses, the canopy has a green roof of cacti. Amusement with a touch of green, this sure is a crown jewel of the park in the Big Apple.


[Inhabitat]