Water-less, recyclable dishwasher concept

At home, one of the most widely used sources of water will be in a dishwasher, after the washing machine. An idea by designer Vincent Liew might be able to solve a lot of worries in wasting water, increasing water bills and even saving some space at home. This is called the Eco-Friendly Steam Dishwasher which is a compact little device that you can place on a counter and not be afraid will gobble up space. The eco-friendly feature is that it does not use any detergent and also recycles water to be used repeatedly. No detergents means, less of ozone depleting solvents. The water used in the steam and rinsing is collected in the recycling bay and something called the Membrane Technology then separates the grime and food particles from the water. This water is then recycled to be used again. Water that is too filthy and cannot be reused again is then discarded via an outlet and then only a fresh load of water is consumed.

Very interesting idea, and this must definitely be put to use. A similar experiment was done in Bahrain by an engineer at his home using basic raw materials lying around. He was able to the greasy water from the non-greasy. While the bad water went under ground, the cleaner water was redirected to water his plants and eventually he was able to grow a mango tree in his back yard – which isn't a common sight in Bahrain. As they say, if you have a will (to save nature) you will.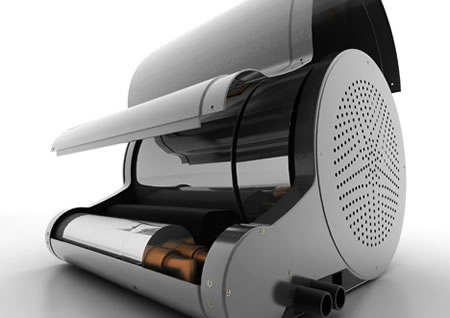 [Yankodesign]