Solar Power-Dok solar-powered picnic table installed at the Boise State University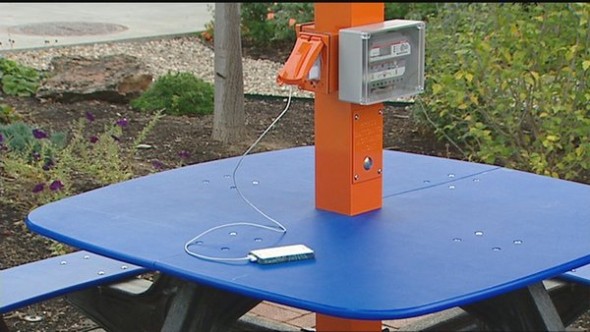 Having green and energy efficient installations set up in educational institutions have several benefits. Firstly, this is a great way to teach younger minds all about eco-consciousness, in a subtle and practical way. That apart, these installations are used more often, given the fact that they cater to a bigger audience, i.e. university folk. It goes without saying that the move by the Boise State University to install a solar-powered picnic table is a fantastic idea. Called the Solar Power-Dok station, the table basks in the glory of the sun, soaks energy and uses the same to charge up smartphones and more!

The Solar Power-Dok station picnic table is made from recycled materials and is completely powered by the sun. The table is set up at a main intersection at the campus, allowing students to plug-in and recharge their cell phones, tablets and laptops.
[Via – Ktvb]