Electricity generated from prisoners pedaling lights up city at night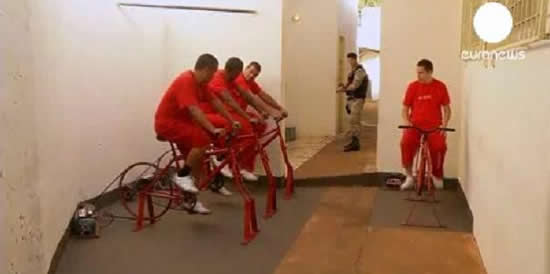 The fast depleting non-renewable energy resources like coal and nuclear power, has reduced concerns among many legislatures and board room meets around the world. Besides natural gas, wind, solar and geothermal energy, there happens to be yet another zero-emission source that hasn't seen the light of day until now. It's called prisoner power and it is sourced at a security prison near Santa Rita do Sapucai in the mountains north of Sao Paolo. In this enterprise, inmates at the facility in Brazil have been given an option to reduce their sentences with an at-par count of 24 hours pedaling for a reduction of their stay in the prison by a day.

Apparently, doing the service for the local community helps the inmates feel better about themselves and also improves their health. We can agree that the prisoner power system is a creative form of exercise for the prisoners, but do you think they create sufficient power for lighting a city?

Brazil inmates cycle to freedom by generating… by euronews-en
[Autoblog]