Climate Dress that lights up and detects carbon dioxide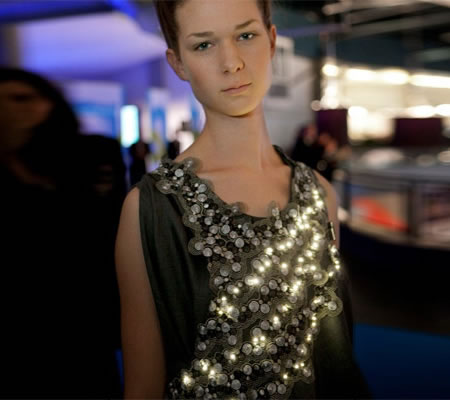 Dresses with LED lights are no longer in vogue only in the Star Wars. A Danish Design company, Difuss, has unveiled its Climate Dress. This dress has embroidery and sequins like every other designer dress, but the little twinkling LEDs make all the difference. It isn't just the LEDs that grab the attention of admirers around; the dress also has the ability to detect carbon dioxide levels in the air! The dress has about 100 LEDs fitted onto it and is connected to an Arduino Lilypad microprocessor and a carbon dioxide detecting device. The dress detects the levels of the green house gas in the air and depending on its concentration, the lights change in their blinking sequences from slow pulses to swift flashes.

The embroidery isn't your normal needle and thread work. Instead it uses conductive embroidery to transfer data amongst the lights. This dress made its appearance in the Bright Green Expo in Copenhagen some time ago. So light up your style with this bright new idea!


[Ecouterre]