Charge up the Sticker Phone with energy from the sun!

As the name suggests, the Sticker Phone is designed to stick. How helpful is that? Equipped with a solar panel at the back of the phone, it can be used to stick on to your window and harvest solar energy from outside. The phone's body has been given a slight arch and is flexible enough to use on uneven surfaces. This enables the phone to stick to surfaces using suction and can be stuck to your office window pane or even your cars windshield to collect sunlight and charge up the phones battery.

The phone compromises of a digital ink soft-screen display panel. The body of the phone is made of polysiloxane (silicon or polymerized siloxanes) and is heat resistant. Once charged, you can simply peel of the phone from your window pane by pulling the phones antenna. This concept mobile phone was designed by an industrial designer Liu Hsiang-Ling.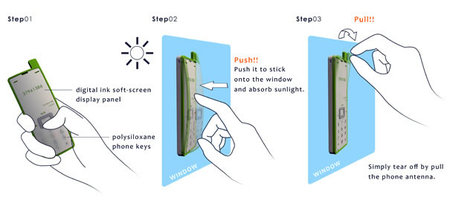 [Yankodesign And Ecofriend]