Formula Zero Fuel cell race finishes with Dutch victory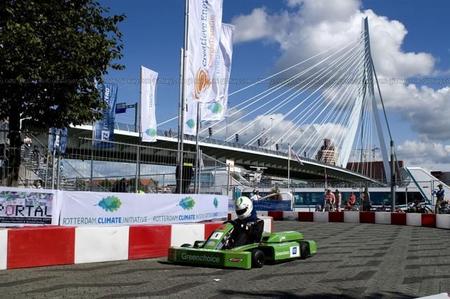 Rotterdam has now finished hosting the world's first international championship for fuel cell powered racers from August 22 – 23. This new zero-emission race was open for all fuel cell single seaters. The competition had just one rule zero emissions, presently Formula One cars gain speed to over 200 miles per hour, whereas Formula Zero cars at the moment, reach just over 30 miles per hour. Each team's entry was powered by a commercial fuel cell that produces electricity from hydrogen.

A Dutch Greenchoice-FORZE Team won the endurance event, while a Spanish team clinched the award for fastest lap. The events included a sprint race, won by a Spanish team called EuplatecH2 with a lap time of 36 seconds. In the endurance event, the Greenchoice Forze team from Delft University took the zeroth place on the podium. That puts the Delft team on top in the standings. In third place was Imperial College London's team Imperial Racing Green, who proved to have the most reliable entry if not eventually the fastest. Racing excitement won't suffer, though; Dr. Offer says that fuel-cell powered vehicles don't represent a compromise in performance over traditional petrol-fuelled engines. It is expected that the class will grow to Formula Three standard and then full-size racing class as interest in green motoring escalates. The next event will be held in the US in March. In 2009 the Formula Zero championship will comprise four races.