World's most energy efficient façade on the Federation of Korean Industries Tower in Seoul

The world today is realizing just how useful a building's façade can be to generate some sweet green energy. One of the world's most efficient solar façade will spring up in Korea, the Federation of Korean Industries Tower in Seoul. Architect Adrian Smith and Gordon Gill Architecture unveiled the design for this green façade which will take energy generating efficiency to a whole new level. The tower standing 800 feet tall will boast a façade using building-integrated photovoltaics. The PVs are designed to face skywards while the glazing is angled to face the ground. Owing to this, the façade glass will reflect a larger amount of the sun's rays, hence helping reduce cooling costs by astounding figures too.

Also, this hasn't cost anymore than the usual façade would, at the same time cutting costs and helping the owners with a quick payback too. Perhaps architecture around the world should look up to this tower for an example in green buildings.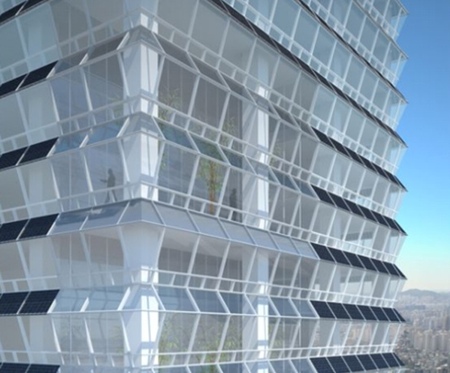 [Inhabitat]