Vancouver to host the greenest Winter Olympics in 2010

This February, the city of Vancouver will take pride in hosting the greenest Winter Olympics witnessed till date in British Columbia, Canada. The city has constructed a whole bunch of building structures that show off outstanding LEED certifications and has also unveiled its naturally:wood website to the public . A three level speed skating hall known as the Richmond Olympic Oval with a colossal wood wave roof, the size of four and a half football fields, flaunts its energy saving refrigeration and rainwater collection systems. The roof of this structure single-handedly costs a massive CAD $16-million! The Winter Games Secretariat's International Media Centre will be hosted at the Vancouver Convention Centre that has a living roof with 6 acres of 400,000 native plants that confines rainwater to be used in the building, on-site sea water treatment system, marine habitats and also a sea water heating and cooling system.

If that's not enough, the 2010 Commerce Centre is a LEED Gold certified structure! Considering all the effort put into making this the greenest games ever, Vancouver has unquestionably done a marvelous job.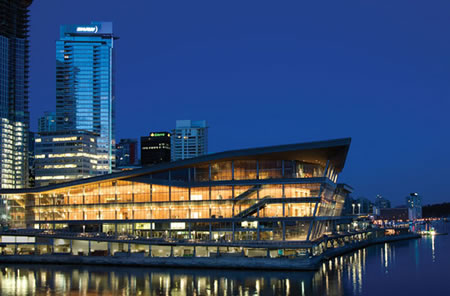 [Inhabitat]