The Eco-Home – At home under a wing shaped roof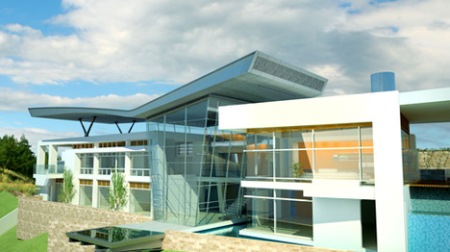 The Eco-Home from designers at Diseño Earle is aiming to be the first 'zero carbon' footprint home in Andalucia, in Southern Spain. The team put two strict objectives in mind: (1) zero carbon footprint, and (2) reduce operating costs to almost a self-sufficiency level. The home huge covering 6995 Sq feet which will be built with 75% less waste than a traditional design and operate 80% more efficiently than a similar sized home. The most striking feature of the design is the wing shaped roof. Not only does the roof bury and embed the solar panels out of sight, but it's at the right angle to capture and convert the sun's rays into energy. In addition, the design calls for space between the roof and home so that less direct heat is absorbed by the home and air can pass over it, cooling the structure in the process.

Other features of the house include rainwater reclamation system, grey water recycling, radiant heating system powered by the solar panels, geothermal energy for back-up cooling and heating, low VOC paints, LED lights, environmentally-sensitive smart glass and abundant natural lighting, and energy and water efficient appliances. D Earle anticipates that the home will be available for purchase in 2009.


Via