The design of MASDAR Center revealed

A design based on sun-flowers that will provide shade that moves during the day, store heat which will then close and release the heat during the night is the main designed that was revealed for the MASDAR Center which is the new eco-city in the United Arab Emirates. The sunflower umbrellas are a winning design by the international practice Laboratory for Visionary Architecture expansion for LAVA. This city is the world's first zero carbon, zero emission and zero waste city that is powered entirely by renewable sources of energy.

The solar powered sunflower will capture the sun's rays during the day and will fold at night. At night, It will release stored heat and open again next day. They will follow the path of the sun for the entire day and will provide shade continuously for the whole day. The city will showcase all things that are sustainable which includes a magnetic public transport system which includes individual pods that will drive you to your destination using only solar power. The facades can be angled to offset or optimize solar glare. Water features can be stored underground during the day and will trickle during the night.
The city is planned 17 kilometers from Abu Dhabi. It is a government initiative and will be completed in seven phases ending in 2016. LAVA is just two years old and is founded by Chris Bosse. According to him the MASDAR city is a prestigious project focusing on sustainable energy.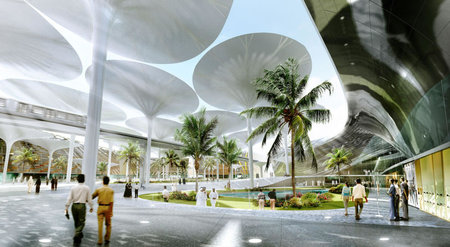 [WorldArchitectureNews]