Schwimmhaus – Green house boats on blue waters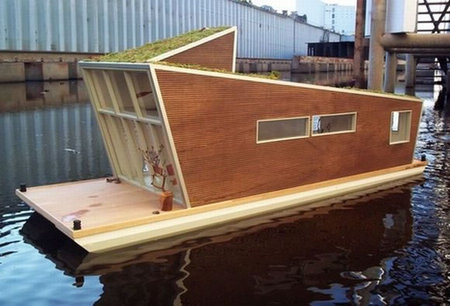 The concrete jungle is packed with buildings and towers that barely leave any space for your green dream abode. This necessitates the need to move out of the terrestrial boundaries on to the blue waters in the well-designed eco-friendly houseboats. Designed by confused-direction and christened as Schwimmhaus, these eco-friendly house boats are intending to float on the German waters in the coming spring. Comfortably spacious to house a bachelor or a couple, this house on water consists of one bedroom, a living room, a kitchen and a bathroom. Spreading out to14m in length and 3m in breadth, Schwimmhaus rises to 4m above the water level. Still in conceptual stages, this house boat boasts of a green roof and other zero emission features. Another green feather on its hat is that the boat is crafted out of recycled wood from an old farm barn.

Since the featured design is compact for one or two persons only, I'm sure once such a clean, green water abode hits the waters, the designers will churn out upgraded spacious versions too. We can also expect to see more green features like solar panels for alternative energy.


Source