Eco-friendly UNStudio pavilion promises to lure visitors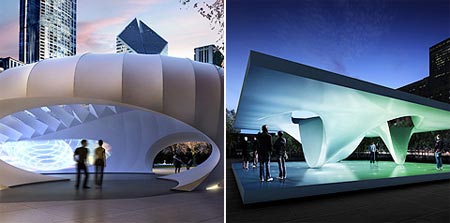 Setting up structures for short-term reasons can generate tons of carbon footprints. The whole building process along with the kind of raw materials used accounts for it. Also most of the times such structures are abandoned after the initial objective is accomplished. But here is a design that defies all such allegations without compromising on style too. UNStudio pavilion is one of the two temporary pavilions that will be installed in coming June in Millennium Park to symbolize the futuristic agenda of the 220 organizations commemorating this year's 100th anniversary of the Plan of Chicago. Designed by Ben Van Berkel of UNStudio & Zaha Hadid of Zaha Hadid Architects, this specific pavilion caught my fancy for two green features.

Erected out of donated steel, the whole structure can be de-constructed and recycled too. This means that raw materials like steel and plywood will be re-utilized and will not hit the landfills. Also the pavilion will come to life at night with eco-friendly, energy-efficient LED fixtures that are designed to mesmerize the visitors. The cost of erecting such a eco-friendly pavilion is $500,000.


[Travelwithfrankgehry]