Amazon shows off its plans to build glass dome-shaped HQ in Seattle

The Amazon has always been a place synonymous with greenery and the company that has adopted the name of this region has decided to follow suit too. in a move that has left us pleasantly suprised, Amazon has added a dash of green to its futuristically eco-friendly headquarters destined for Seattle. The building will house about 1,800 of the company's employees and will make use of grenhouse-like domes. The structure uses three interconnected glass sphere, up to 30m tall, and will be surrounded by enough greenery.

The brains behind this architectural beauty, the NBBJ group that has currently worked on projects for Reebok and Boeing, states, "The generative idea is that a plant-rich environment has many positive qualities that are not often found in a typical office setting." Covering an area of 3.3 million sq ft (307,000 sq m) over three city blocks, these spherical domes will also house varying eco-zones and the entire structure will function as a little world in itself.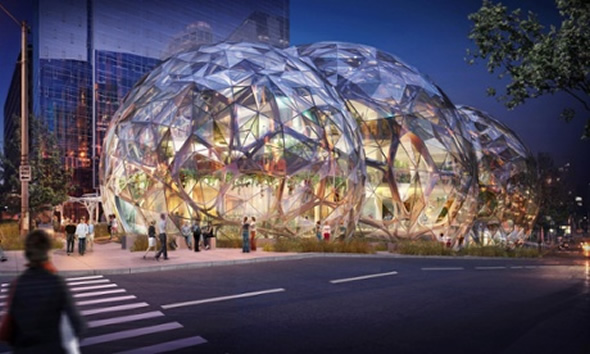 [Via – The-Guardian]