Air-purifying bridge uses solar energy to light up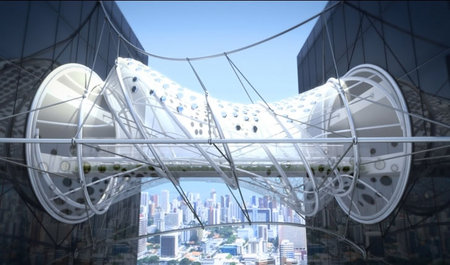 Besides connecting two ledges and providing for a sturdy walkway across an otherwise inaccessible route, bridges can do a lot more, like say, purify the air too. Winning first place at the Building to Building Pedestrian Bridge International Challenge, this shape-shifting helix green bridge design was conceived by Sanzpont and uses a tensile fabric that allows the bridge to move as visitors walk. Also, this one soaks juice from the sun to light up at night with linear LEDs, giving it a striking organically illuminated visual in the night time. And with for a cherry on top of this delicious cake, this bridge also purifies the air in its immediate surroundings.

All in all, Sanzpont's design seems to be a pretty energy-efficient and environment friendly way to bridge gaps, creating walkways across buildings, several stories above ground.


[Inhabitat]