80 days for the completing the cladding for FIFA World Stadium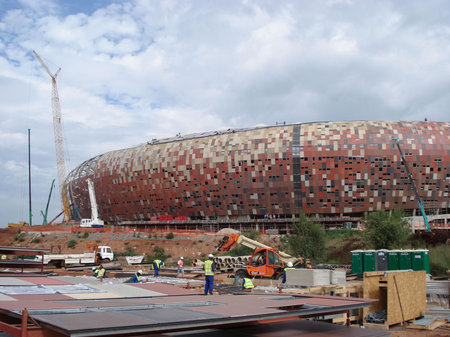 The flagship FIFA World Cup Stadium is currently the largest stadium construction site worldwide employing 3,000 personnel. It was first constructed for hosting the first mass rally of Nelson Mandela after his release in 1990. The stadium is receiving a full refit inside and out. The Austrian firm tasked with the delivery of the exterior cladding advises that this will complete in just 80 days. The façade, the intrinsic element of the Boogertman Urban Edge & Partners design, is constructed of fibreC glassfibre concrete panels in typical African colours. Rieder Smart Elements will deliver the façade.

The cladding s known as an eco-friendly alternative to other materials with the production of fibreC having 40% less global warming potential than fibre cement panels or aluminium sheets. But the transportation of these claddings from all the way from Austria to South Africa was not so eco-friendly! The refit of the stadium will increase capacity from 80,000 to 94,700.


[W]