Vertical axis wind turbines integrated in Chicago building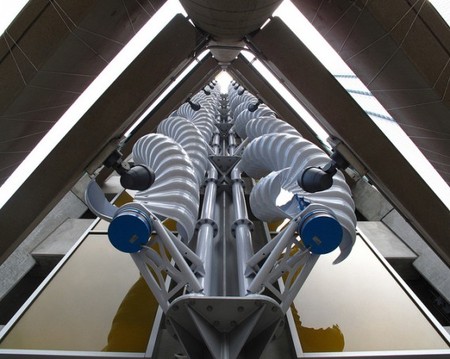 Who said powering up a building with energy from the winds is difficult? No, they sure don't need those big wind turbines doing the rounds up there on the roof. Not with technology like these building integrated wind turbines by helix Wind. Snugly fitted into the façade of a building in Chicago, 12 vertical-axis wind turbines are busy spinning around, generating energy as the wind passes through them, in turn powering up the building. Stacked up in two columns at the south-west corner of the building, the VAWT turbines can generate energy with wind speeds of as low as 11.1 mph winds. Costing $16,000, the turbines can produce up to 4.5 kW of power and measure 16′x4′ weighing 1,330 pounds.

Finally, wind energy generation on a smaller scale is a lot more practical!


[JetsonGreen]