Swift Rooftop Wind Energy System renders freedom from grid

Most of us are frequently talking about alternative energies like wind and solar power but how many of us can boast of either turbines or solar panels on our roofs? Renewable Devices' Swift rooftop wind energy system has made it easier for us to power up our dens with clean, green, windy energy. Coming from UK, this Swift rooftop wind system is a noiseless (almost) building mountable turbine that helps to reduce our carbon footprints. It will also help to curb the escalating electricity bills. Using aerodynamic technology, it designed to generate electricity only when the need arises.

Such an energy system also features an overpower regulation mechanism that controls rotation speed. Now this is a must to tackle strong, high winds. Also the sophisticated electronic control system allows controlling the energy usage. Ideal to energize your homes or offices, it can set up on a rooftop or wall, and works as a stand-alone as well as off grid.If you are keen to flaunt these turbines on your roof then shoot a mail at Renewable Devices.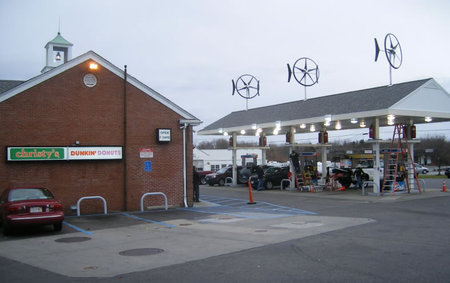 [Trendir]