Korean Village 100% solar powered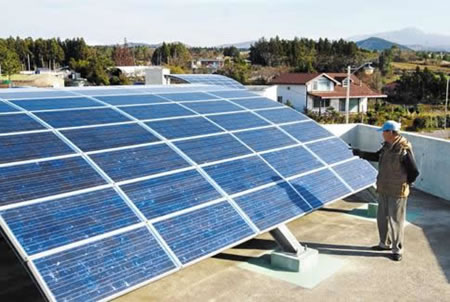 While most of us are happy having a solar cell in our calculators and often dream of owning enough solar cells to power our home, a small village in Korea has already done it. The village Donggwang gets 100% of its power from the sun. The village is located on the semi-tropical island of Jeju-do. Near the village, Halla Mountain, a volcano and the tallest mountain in South Korea, rises from the island's center amidst a patchwork of small farms. The village's forty houses and the school all have large solar panels covering their roofs. A typical roof will have a two kilowatt solar installation. In 2004, the government subsidized the solar systems in Donggwang, paying 70% of the installation fees. Now if only our govt realizes the harm to the environment the older forms of energy production make and lose its selfish obsession with making money providing the most basic of energy requirements.

Apart from the individual solar panels over many homes & schools in the village the Jeju-du island also has a large wind farm. Last year, the local government announced its plan to raise the island's wind power generation capacity to 500 megawatts (MW) by 2020, in order to replace 20 percent of conventionally generated electricity. It also had said it will replace 26 percent of existing fuel used in transportation to environmentally friendly fuel. Now this is what we call a truly green initiative.


Source