Copenhagen passes mandatory green roof policy for a city with greener roof-tops

Copenhagen hopes to go carbon neutral by the year 2025, and in an effort to do so, the city has come up with a novel view way to spread the green around, this time on rooftops. A future aerial view of Copenhagen will see a lot more green than today. The city has adopted a green roof policy, wherein all new buildings with roof slopes of less than 30 degrees will need to go green. Currently, the city of Copenhagen has 20,000 square meters of flat roof surfaces. Imagine all these and future projects going green!

A green roof does a whole lot of good to the surrounding areas. Also known as vegetated roofs, these surfaces up above our heads can absorb 80% rainfall and reduce the workload of stormwater systems. They also keep the heat away and protect the roof membranes from UV rays and temperature swings, keeping the roof intact and protected. And then again, they look beautiful too, making our building structures look closer to nature. Three cheers to Copenhagen for this new policy!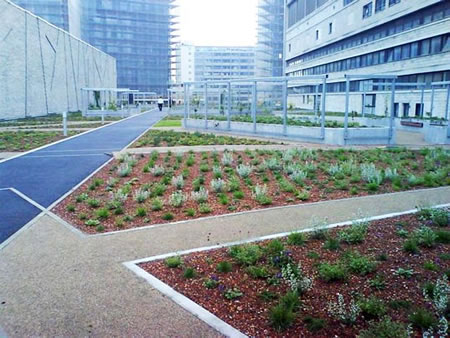 [Inhabitat]